vegetarisk stjärnglans i East Village
– Johan, var ska vi äta? Kan vi inte äta på Dirt Candy i år igen?
– Eller kanske på Kajitsu.
Det blev båda.
Johan har en fantastisk förmåga att sniffa fram små bra krogar på krypanstånd från hans hem i East Village. Den här gången hamnade vi på den japanska tvåstjärnan Kajitsu. Det ligger på källarplan i en oansenligt hus på 9:e gatan. Så fort man kliver in i de dovt ockrafärgade lokalerna kommer lugnet krypande och jag är plötsligt oändligt lättade över att min jetlagade son är hemma på hotellet med sin far och inte utsätter detta zentempel till restaurang för sina tjut.
Restaurangen var helvego, oförskämt billig: sju rättersmenyn HANA 花 för 90 dollar med utmärkt service, snygga rätter och allt frÃ¥n fantastisk mat till mer japanska utflykter i texturaförtjusning. Det kommer mer bilder sÃ¥ fort jag orkar vända pÃ¥ dem. (ja, jag ska uppdatera mitt WordPress sÃ¥ att jag kan göra det här…)
Hearts of Palm and Grilled Kabu Turnip with Morel Mushroom Sauce
Wasabi, Chives, Pink Peppercorn
Clear Soup with Goma Tofu and Okura Hydrangea
Myoga, Ginger, Chayote
Soy Vinegar Sauce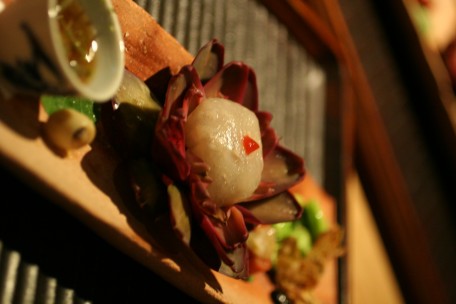 Lotus Root Ball with Sour Plum Paste
Rhubarb, Lotus Seed, Nasturtium leaves
Grilled Fava Beans and Artichoke Heart Chips
Sansho Red Miso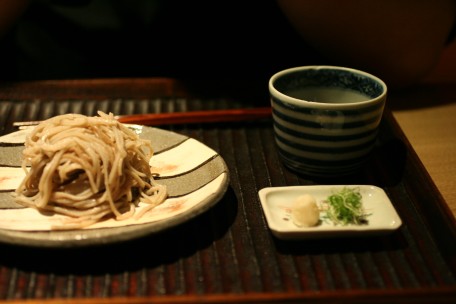 House-Made Soba with Dipping Sauce
Horseradish, Scallions
Panko Fried Nama-Fu and Summer Vegetables with House Made Worcestershire Sauce
Eggplant, Button Mushroom, Zucchini, Asparagus, Cherry Tomato, Onion, Bell Pepper, Celery Root
Kabu Turnip Green Ohitashi with Sesame Cream
Sugar Snap Peas, White Wood Ear Mushrooms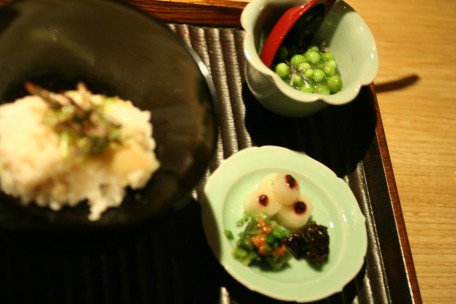 Steamed Rice with Ginger Root and English Peas
Aonori Seaweed, Scallion, Mitsuba, Snowflake Celery
House-Made Pickles
Agar Jelly with White Bean and Green Plum Paste
Apricot Paste, Gold Leaf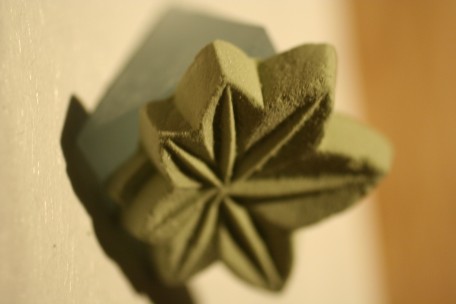 Matcha Tea with Candies by Kyoto Suetomi
Och sen hamnade vi på en bitterbar med de här förtjusande flaskorna. Mer om den senare.